Buy 3, Get 2 Free or Buy 2, Get 1 Free & Half Price Jumbo Body Butters @ The Body Shop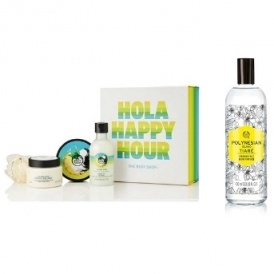 How much do we love sales at The Body Shop? Well here's another great one! Though not as great as buy 3, get 3 free like last time, this is still pretty sweet: buy 3, get 2 free or buy 2, get 1 free! No promo code is required; just add the eligible products to your cart and you'll see the lowest priced item(s) discounted to $0. On top of that, their beloved jumbo body butters are 50% off.
I can't wait to try the new limited edition Pinita Colada Body Care Collection; it sounds just delicious. I think I'll try the Shower Gel or the Body Scrub to go towards my B3G2 deal.
I'm looking to soothe my sun chapped summer skin with some lovely smelling body butter. This Coconut Body Butter just smells like summer and the coconut oil in it is extra moisturizing but the Pink Grapefruit smells so yummy... it's my absolute favourite. Regularly $34, each of the jumbo body butters are just $17.00.
The Body Shop offers free shipping on $75 and $5 shipping on $50+, otherwise, it's $7.95.
(Expires: 21st July 2016)