Burts Bees: Schools Out Grab Bags For $25 ($55 Value)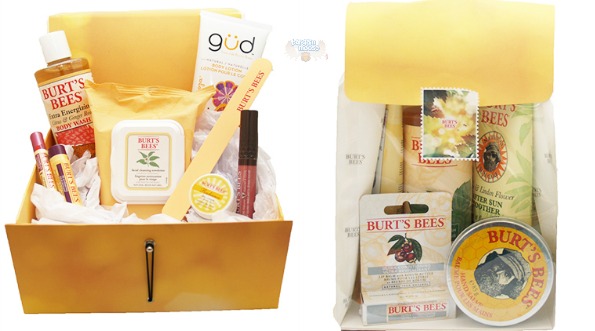 Burt's Bees Canada has released a couple grab bags of beeswax goodness for only $25 each. The contents of the bags are worth over $55 so you are saving at least $30 compared to buying the items separately.
Ladies, the Schools Out Grab Bag for Her is designed especially for you. It comes loaded with Burt's Bee favourites that will have you stroking your skin in joy. The gift box is loaded with:
Citrus & Ginger Root Body Wash (350mL)
1 Watermelon Lip Shimmer (2.6g)
Facial Towelettes with White Tea Extract (30 count)
1 Rejuvenating Lip Balm with Açaí Berry (4.25g)
Lip Gloss (Nearly Dusk 6mL)
gud Orange Petalooza Body Lotion (235 mL)
Radiance Day Cream Mini (7.0 g)
This gift box makes a good gift for an especially amazing teacher, a fresh graduate, or anyone who appreciates Burt's Bees products and needs a little help staying moisturized this summer. The only thing I do not like about this gift box is that it focuses heavily on the lips: three products are just for your mouth. However, I also own a Burt's Bees lip balm and know it is a very good product so it is a minor quibble.
Attention men: this Schools Out Grab Bag for Him has been designed just for you. It comes with entirely different products from the women's grab bag, keeping in mind that men often have different needs. This gift boxes features:
Fabulously Fresh Peppermint Rosemary Body Wash (350mL)
Hand Salve (85g)
Ultra Conditioning Lip Balm with Kokum Butter (4.25 g)
Aloe & Linden Flower After Sun Soother (177 mL)
Coconut Foot Crème (120 g)
Their hand salve is pretty much industrial strength, meant to tackle hands that work hard each day. I have been thinking of getting it for my Dad, as he is a carpenter and could certainly benefit from a little help on that front. I am just not convinced he would actually use it. If your father is the sort that would gladly use such products, then you might want to pick this up as a father's day gift for him.
Both these grab bags make fantastic gifts for you or for someone else. With the number of parties, showers, weddings, and other social events the average person goes to in the summer... it is always good to have a few gifts lying around.
Receive free shipping on orders of $49 or more. Therefore, if you buy two grab bags, they will ship free.
(Expiry: unknown)