Avon Coupon Code For $1 Shipping!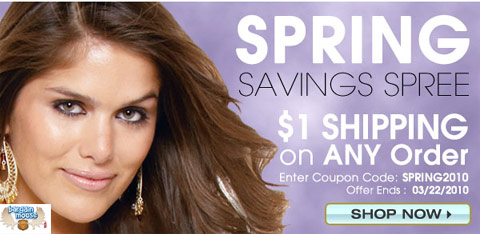 This is a decent Avon Canada coupon code for a discount on the shipping charges when you order online. Any order will receive $1 shipping, and there's no minimum spend!
Click here to use the Avon coupon code online
Coupon Code: SPRING2010
Discount: $1 shipping
Expires: 22nd March 2010
There are some great little items on the Avon Canada store which you could purchase to make use of this coupon code.
Their spring hand cream is only $0.79 each, down from $2.49! Similarly, the spring lip balm is also $0.79, down from $1.99! The brand new SuperExtend mascara is also half price, down from $9.99 to $4.99. Or, if you like Anew face cream, you can order 3 items for $39… There are far too many promos on the Avon site for me to mention here. I recommend you get out your credit card, and go for a virtual browse!