XtremeGuard (US) Coupon Code: 91% Discount on 3+ Items *HOT*

XtreameGuard (US) sells screen guards and accessories for phones. Right now, they have a 91% off coupon for their entire website when you buy three or more items!
Click here to shop @ XtremeGuard (US) now
Coupon Code: Christmas91
Discount: 91% off 3 or more items
Expiry: Unknown
This is like the motherload of all coupon codes right now. I have an iPhone 5 so I was looking for accessories for it. Do not worry; they also have accessories for the brand new iPhone 6 models as well as other brands too. First, I need a new screen protector. Rather than go for some cheap chintzy protector, I decided on the Spartan Tempered Glass Screen Protector for $59.99 US. Their original price is rather high, but the cheapest I could find this IN Canada was at an 80% off sale for $7.99 + $5.99 shipping = $13.98. With the 91% discount, the screen protector will cost me just $5.40 US.
I also added a Gold Series Pencil Stylus by XtremeGuard for $24.99 US to my cart and the iPhone 5S Spartan PhalanX Case for $69.99 US. I assume these are all a bit overpriced on their initial price tag, but with 91% off the stylus comes down to $2.25 US and the case comes down to $6.30 US. You can see my entire cart here: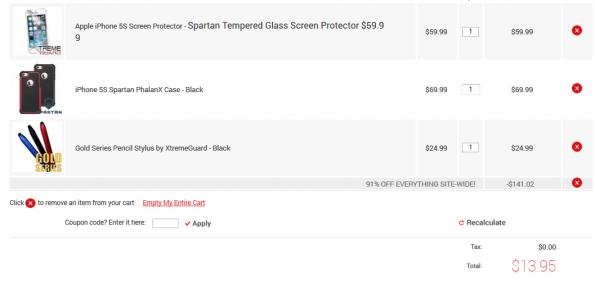 As you can see, this is an amazing offer and you can really load up on phone accessories. Deck your brand new iPhone 5 or iPad 2 Air (or whatever you own) out in a screen protector, a case, ear buds, cables, cloths, and more. All XtreameGuard protectors are backed by a lifetime warranty.
I have no idea when this coupon ends, so it could terminate any time. If it does, coupon code 80off will land you an 80% discount. I hope that one or the other of these coupons will be working for a little bit.
Now, you may think that shipping in from the USA will be costly. I was actually pleasantly surprised by their low shipping charges. To get the three items above shipped to Vancouver Island, it would cost $5.87 US. I am certainly willing to pay that, as my entire cart was still under $20 US.
Orders of $20 or more may be subject to Canadian customs and duty. I do not expect this will happen as if your total is still quite low, but it is a possibility.