Wow! 50 Rolls of Gift Wrap for $22 inc Canadian Shipping @ Amazon UK ($0.44 per roll!) (EXPIRED)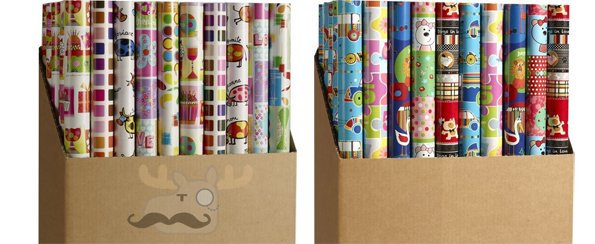 From time to time, good deals come up on Amazon in other countries, such as on the US site or on the UK site. And most of the time, the deals can be shipped to Canada too… so they can be worth taking a look. I've spotted a very interesting deal on some bulk packages of gift wrap – you can buy 50 (yes, fifty!) rolls for only $22 including Canadian shipping! There are two colour schemes to choose from – the regular set, or the kids' themed set. Here they are:
The total UK cost of the above sets including shipping is £10.62 which equates to around $22 Canadian. So, this is working out at a cost of about $0.44 per roll. Each roll is a 2m length, and it's 70cm wide, as far as I can see.
The Amazon seller on this one is called "keep-the-media." The gift wrap sets are usually shipped within 2 to 3 days, but it will take a while longer to get to us in Canada (estimated early September).
In terms of a price comparison, it's quite hard to do online, as you cannot really compare like for like. I know that you can often get rolls of gift wrap at the dollar store, but I find the dollar store stuff is very thin and tears easily. The seller on this Amazon listing specifically states that this is strong paper.
This is an ideal time to grab this deal right now – then pop it in the present cupboard for any time you need to wrap some gifts. If you're anything like me, you'll have a selection of wrapping paper in there, in various colour schemes. My current collection is running a bit low though, so I am very tempted to buy a set of this gift wrap as it is such an amazing price.
In terms of customs and duties as this item is coming from outside Canada - don't worry about it. The value is under the $20 customs limit, so you won't be hit with any hidden fees.
(Expires: unknown)