Up to 72% off Clearance Priced Luggage + Extra 20% off at Checkout & Free Shipping @ Best Buy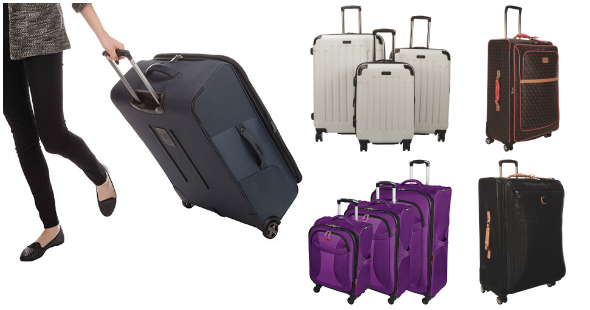 If you've got a trip planned to a sunny destination this winter, or maybe you're just a frequent traveler, you won't want to miss these clearance deals at Best Buy Canada! BestBuy.ca has a selection of luggage marked down by as much as $910(!) with an additional 20% taken off at checkout, saving you as much as 80% off AND free shipping! The extra discount is automatic in your cart so there's no coupon code to worry about, either. But you'll have to hurry as there are limited quantities and a few of the most heavily discounted items are almost gone!
Check out the Swiss Gear Neo Lite 3-Piece 4-Wheeled Expandable Luggage Set. With an original price tag of $1259.94, it has been discounted by 72% or a whopping $910. Once added to your cart, the additional 20% discount is automatically applied, dropping the price to just $279.98 -- an overall savings of 78%! Understandably, quantities of this set are very limited but, as of this writing, Best Buy is still showing 11 left in stock.
This durable but lightweight Kenneth Cole 3-Piece Hard Side 8-Wheeled Expandable Luggage Set was $859.97. On clearance, it has dropped to $219.97 but your in-cart total is just $175.98. An 80% savings!
There are a couple of large suitcases that are deeply discounted in Best Buy's Clearance section. This Guess Frosted 29" 8-Wheeled Expandable Suitcase is regularly $714.97. Already marked down by $515 to $199.97, the final price is just $159.98. The Ocean Blue Travelpro 28" 2-Wheeled Expandable Suitcase was $434.97 but has already been lowered to $123.97. With the extra 20% discount applied, you'll pay $99.18.
This chic Logo Affair 25" 8-Wheeled Expandable Suitcase by Guess was originally $684.97. At $179.97, the clearance price is already saving you $505. With the extra 20% taken off at checkout, the price drops to just $143.98, a total savings of 79%.
If you're in need of something a little smaller but still want big savings, the Benetton Weigh It 21" Hard Side 4-Wheeled Suitcase fits the bill. Originally $374.97, you'll save 70% off that at just $111.98. Also made from ABS plastic, it's water-resistant and rugged enough to withstand the rigors of frequent travel.
At less than $100, the black Benetton Equal 26" Soft Side 4-Wheeled Suitcase is a great bargain. Ordinarily, you'd pay $339.97 but get it for only $79.98 right now, saving 76% overall. It's also available in a bright blue colour whose final price is a little bit higher at $95.98.
Check out these great deals on clearance luggage at Best Buy Canada before they're gone! Orders over $25 ship for free from BestBuy.ca so you can save those shipping fees for vacation spending money!
(Expires: 14 January 2016)