Turtle Beach Call of Duty: Ghosts Ear Force Phantom Limited Edition Gaming Headset Only $99.99 @ Newegg.ca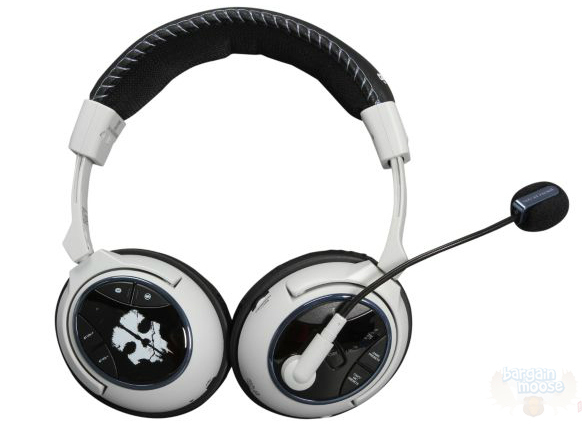 There are gamers and then there are gamers... Noticed the difference? Okay, probably not. But if you had heard us say it, then you'd totally get what we're talking about.  Newegg.ca is offering the Turtle Beach Call of Duty: Ghost Ear Force Phantom Limited Edition Gaming Headset for $99.99 with free shipping!
The Call of Duty video game franchise is one of the best selling and beloved series of games out there. In fact you'd be hard pressed to find a more devoted group of gaming fans. So it's only natural that these fans take their Call of Duty very seriously. That's what makes this deal so great! Now we know what you might be thinking, "First off, that's an excessively long product name. And secondly, that seems a little steep for video game headphones." Well, they're regularly priced at $299.99 so at $99.99, that's a 67% saving.
Here are the online prices at other well-known retailers:
Best Buy $169.95
Future Shop $169.95
Amazon $199.99
The Source $229.96
Walmart $239.96
The headsets offer a lot of bells and whistles to enhance every Call of Duty Ghost fan's experience. Here are some of the headset's key features:
Dual Band WiFi provide clearer chat and game audio
Premium Dolby Digital Surround Sound
Wireless Bluetooth that allows you to mix game audio with your own music and answer calls
15 hours of battery life
Official Call of Duty Ghost game sound enhancements specifically designed from the game's developers.
Now, the reviews on the site are mixed. Either you love them or you don't. But the reviews from other sites seem to be more favorable than not. There are a lot of gaming headphone options currently out there. But at $99.99 marked down from $299.99, the Turtle Beach Call of Duty: Ghost Ear Force Phantom Limited Edition Gaming Headset is really worth considering.
(Expiry: unknown)