TigerDirect Canada: Swann SWDVK-425504C Surveillance System $289.97 (Orig. $399.99)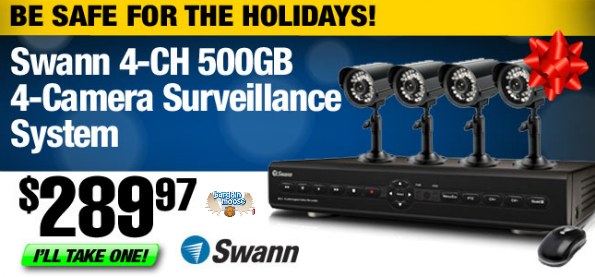 Buy a sense of security this holiday season with a Swann Surveillance System for only $289.97 at TigerDirect Canada. The system comes with 4 cameras to monitor your world.
I did a bit of research and found the product both on Amazon.ca and Amazon.com. On Amazon.ca it was a terribly overpriced $478.60 and on Amazon.com it was on sale from $399.99 down to $293.49 but with no shipping to Canada.
The reviews, though mixed, are mostly good for the product. Here are a couple reviews:
So far, this system has met all of my expectations ... and more. It was easy to set up and it is recording 24/7 video for us with no issues. I am really impressed with how Swann has made this such a complete, ready to go, system. I had two cameras recording and being displayed on the TV within 20 minutes of opening the box.
This system met our needs perfectly. It really exceeded our expectations. It comes with four cameras which cover a large viewing area. You can monitor all camera views at once or individually. It can be set to start recording when it detects motion. That is a wonderful feature to keep from recording endless hours of nothingness! This was exactly what we were looking for and then some! It is very reasonably priced and is excellent quality. The pictures are very clear and the colors are great. Wish we had bought it sooner.