The Source: Etron Soulra Solar Powered iPhone iPod Speaker Dock (Refurbished) Was $250 Now $63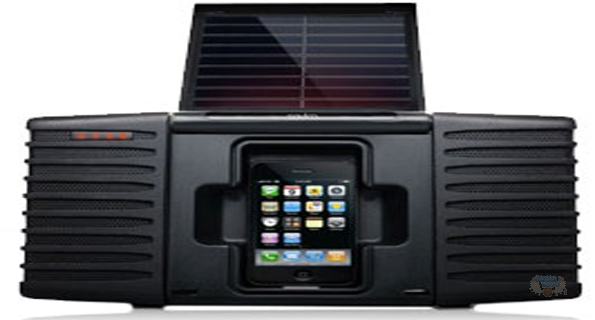 I love the smell of new deals on Monday mornings! In this case, The Source is offering online bargain hunters the opportunity to save big on a solar powered speaker dock! For a limited time, you can pick up a refurbished Etron Soulra Solar Powered iPhone / iPod Speaker Dock for just $62.97 - it normally retails for $249.99 brand new! By purchasing this unique speaker dock, you're also eligible for free standard shipping, which is always a nice bonus.
Splash proof and solar powered, the Etron Soulra Speaker Dock is something that can really come in handy when you're going to a beach, or are going on a camping adventure. Hey, it can even be useful during a lazy day in your backyard! However, for days that aren't too sunny, there's no need to fret - this solar powered speaker dock also comes with an AC adapter that you can plug into the wall.
Whether you plan to use this dock strictly indoors or outdoors, it really is an interesting unit. Even if you don't have an iPhone or an iPod, you shouldn't have any problems playing music from your smart phone or portable audio device on this speaker dock, since it has a built in audio line input.
At this time, there are many speaker docks flooding the market, so it can be tough to stand out from the rest - especially when there are so many familiar brand names available. On the other hand, this speaker dock's solar capabilities really make it intriguing to me.
On Amazon, the Etron Soulra Solar Powered Speaker Dock sells for $141.62, and it retails for $199.95 at Best Buy. I've included a brief review from a satisfied Amazon customer below.
We took the Soulra to the beach and I loved the idea of not worrying about battery life! It's so nice to finally see an ipod player out on the market that is solar powered. As a mother on the go, having a place to charge my ipod and play it makes my life so much easier!
There tends to be limited quantities in stock for refurbished items that are available at The Source, so if you're looking for a new speaker dock, act quickly and order this while it's still available. Here's to hoping that you all have a great, productive Monday!
(Expiry: Unknown)