The Source Canada: Parrot Zik Wireless Headphones (refurb.) $240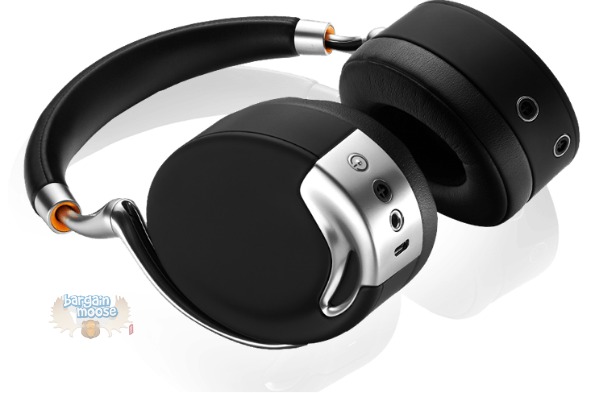 I am currently having a heart attack over this deal. The Source is having a refurbished sale with my dream headset in it. Pick up the Parrot Zik by Starck Stark Wireless Headphones - refurbished - for just $239.98 with free shipping. These headphones usually retail for $429.99.
Massive fan girl moments occurring right now. If there was one headset in the world I could get my hands on, it would be the Parrot Zik by Starck (if the Sennheiser HD800s were not available). First and foremost: this is a wireless headset that connects to your phone via Bluetooth. The cups are touch sensitive and respond, much like a tablet screen, to swipe motions you make with your fingers. Swipe forward to play jump forward a track. Swipe up to increase the volume and swipe downwards to decrease the volume. When you remove the headset from your ears, it will pause automatically.
The Parrot Zik has a run time of approximately eight hours. Unlike many other headsets, it can still be used once the battery has run out. Just plug in the 3.5mm jack and you are good to listen to your tunes for countless more hours. You must know about so many other features! Like pairing: pairing your Parrot Zik with your simple when you just touch your phone to your left ear cup (for NFC devices). The headset also has active noise cancellation as well as four microphones and a jawbone sensor for call clarity. The Parrot App will allow you to adjust the acoustics and sound-space right from your phone.
Here is what a reviewer at The Source had to say:
I got a refurbished set of Parrot Zik headphones so I can only speak about the gently used pair I got and I have to say, they are awesome! The sound quality is good, the frequent firmware / software updates are apreciated and the touch controls work great. I'm also really impressed by the active noice cancellation. The battery is also giving me 8 hours of playback with the features like noice cancellation and I would recommend this product to anyone looking for bluetooh headphones with noise cancellation.
This headset is currently $399.99 at Future Shop and $429.99 at Best Buy Canada.
This set of headphones includes a USB charging cable and a case.
(Expiry: 17th September 2014 - may sell out sooner)