The Source Canada: Computer Sale Save up to 40% Off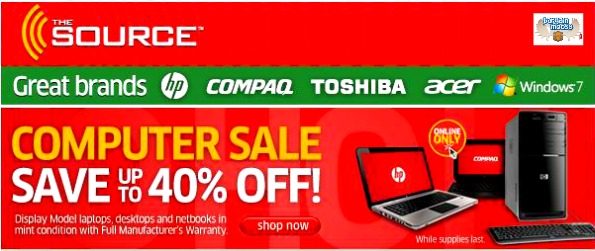 Over at The Source Canada they are having an awesome sale on right now on their computers.
Here are the details of the sale:
This sale includes display model laptops, desktops and netbooks in mint condition with full manufacturer's warranty
There are some great computers included in this sale like this HP Smart touch desktop on sale for $599.96 (regular price is $899.99) The fact that all of these computers included full manufacturer's warranty is a bonus.  We bought a computer two years ago that was the display model as well and have never had an issue with it and the warranty is always some extra reassurance.  Some people wait until after boxing day to get big ticket items like this but I find that often the best sales are actually before Christmas, like this one.
Thanks to Anjula in the forums! This is what he says about his purchase:
I purchased a mint-condition PlayBook from TheSource (termed as a "Display model", but likely locked in a glass cabinet) a couple of months ago (inc. flip case & $200 gift card which I used for Christmas gifts), and it is as perfect as an unused model.