The Source Canada: 50% Off Infinicell AA and AAA Batteries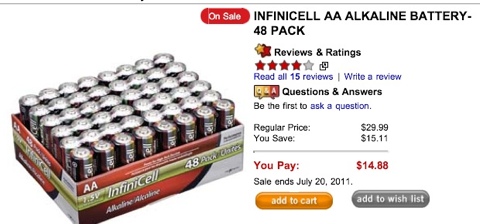 In need of batteries? Until 20th July, 2011, save 50% off Infinicell AA and AAA Batteries at the Source.
This 48 pack of AAA batteries is on for $14.88 (reg. $34.99) and the 48 packs of AA batteries are also selling for $14.88 (reg. $29.99). One reviewer says,
I love the way these batteries are packaged, they are packed in separate 4 to a mini pack, inside the box. Very convenient for traveling. They have a good life and are comparable to other brand names.I would recommend them. Getting them on sale for 1/2 off was an added bonus.
Get free pick up in store or pay for shipping to your door for $4.99.
We go through so many batteries. It seems like every toy the kids have requires batteries of some kind. I'm always on the lookout for battery deals so that we can stock up!