The Source Canada: $130 Off HP or Acer Laptop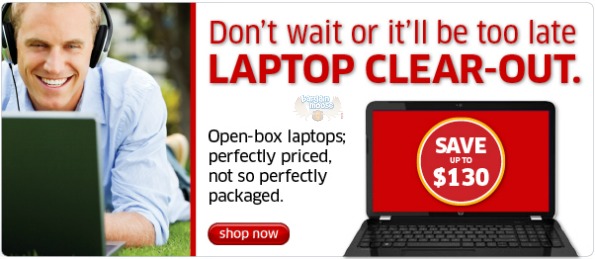 The Source Canada is offering $130 off two fantastic little entry level laptops that will serve all your needs and more. Save $130 on either the ACER V3-571-6847 or the HP Pavilion 15-E020CA.
First off, let us look at the Acer V3-571-6847, which would be my choice of the two laptops. The laptop is in "open box" condition with full warranty. Regularly, the laptop retails for $499 but The Source currently has it on sale for only $369.96. I price compared with the manufacturer themselves and they sell this exact computer for $499. This computer measures 15.6" and features:
Intel core I3-2328M processor
500GB hard drive
6 GB RAM memory
and Windows 8-Iron
This is a solid computer with a good balance between speed and space. I do not know much about the Windows 8-Iron operating system, but I assume anything is an improvement on Windows 8. What really impresses me about this laptop is the price: you can pick up this laptop in mint condition with full warranty for $370. This is a little dream machine.
The second sweet little computer deal I found at The Source is on this HP Pavilion 15-E020CA laptop. It is also an "open box" model that comes with full manufacturer's warranty. Originally, $479.99, the laptop is now on sale for $349.99. I could not find this laptop at many places, but I did locate it at Canada Computers where it was priced at $468.88 (though OOS). This beauty is also 15.6" and features:
AMD Elite A6-5350M Accelerated Processor
750GB hard drive
4 GB RAM memory
and Windows 8
Comparing the two computers, the HP has a larger hard drive but smaller memory, which does affect speed. It will really depend on your own personal preference. I like a more balanced computer so I would go for the Acer, which combines decent speed with a good sized hard drive. If you tend to store a lot of music, videos, and photos on your computer (I call it digital hoarder syndrome) you might want to consider the HP which gives you an extra 250 GB hard drive for $20 less.
Both these laptops come in under $400, which is a great price for a laptop these days. With the HP at $350 and the Acer at $370, you can really pick which laptop serves your needs. No matter which laptop you choose, either laptop will come with free shipping as they cost over $20 each.
There are many more discounted open box laptops on sale at The Source Canada. Check them all out!
(Expiry: unknown but sure to sell out quick)