The Source Canada: 40% Off InStudio Speaker iPhone/iPod Dock With Alarm Now $60 (Refurb)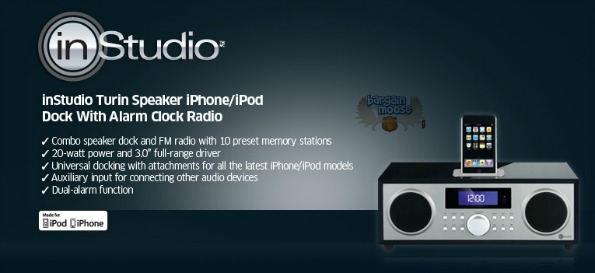 The Source Canada is great for bargain electronics. No one actually owns an alarm clock these days, but if you want your phone to play double duty, you might want to invest in a docking clock radio. Check out this InStudio Turin Speaker iPhone/iPod Dock with Alarm on sale for $60, which is 40% off the original price of $99.99.
The docking clock radio charges your iPhone/iPod while sporting a dual-alarm feature, large display, ten pre-set radio station buttons, and more! It also includes a remote control, so you don't have to reach across the deep chasm between the bed and the end-table.
This clock radio also has mostly positive reviews; here are a few:
Was looking for a small dock with FM for my dining room. The dark wood finish matches perfectly with my dining room furniture.

A great radio and speaker system for the price. It lacks an AM setting and cannot sync to iPhone 5 even with 30 pin lightening adapter. But it does connect with auxiliary setting and headphone attachment cable included with the radio. Excellent sound and eat to use remote.

You can get free shipping to your local store or shipping to your home for $4.95. This is a refurbished model, but it does come with a full warranty.
(Expiry: 14th August 2013)