Storage Ottoman 50% Off @ Best Buy -- Now $100 & Free Shipping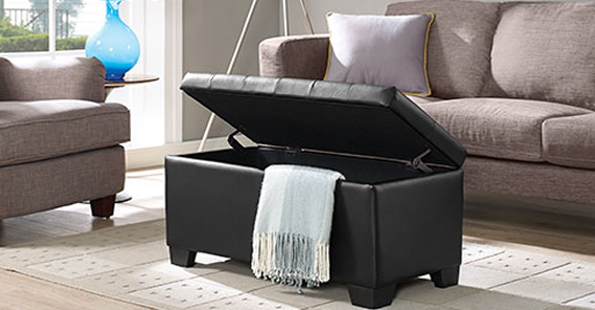 Best Buy may not be the first retailer that comes to mind when you think of furniture or decor but their online home and lifestyle presence is actually quite impressive. I came across some really lovely storage options during a recent perusal. The Elijah Storage Ottoman is available in two fabric choices: faux-leather and polyester; and a few different colours (five neutrals and one bold red). Regularly $199, they're on sale for $99.99 right now at BestBuy.ca -- a 50% savings.
If you've ever searched for a similar piece of furniture, you may know they can be insanely expensive. The regular price of the Elijah Storage Ottoman is about average at $199.99 so a savings of 50% is wonderful.
I've linked to the black faux-leather but each of the colours/fabrics can be selected via the link above. The five swatches underneath the main picture show your options if you're looking to branch out from basic black: Grey and Heirloom Natural polyester; Brown, Cream and Red faux-leather.
The ottoman is a good, medium size at 33" in length. Perfect for under a window in the living room or at the end of the couch. Each ottoman features an easy-lift top that reveals a hidden compartment for storage of all sorts of things: blankets, video games, toys, remote controls, books, DVDs... anything you want out of sight! The tufted cushioned top also provides additional seating or works as a footrest. Every colour is complemented by dark espresso feet.
We have two of these in our home to keep odds and ends contained and (somewhat) organized. All the small kids' toys fit perfectly inside while still being easily accessible and they offer a few additional seats for company. I think one would be perfect in a foyer or entryway. I'm eyeing the Grey Polyester for just that. I think it would be great to throw the winter accessories, dog leashes and toys under the bench when we get in the door and also to have a place to sit and put on those clunky winter boots.
There aren't a ton of reviews but the ratings the ottomans do have are all very positive.
This sale price of $99.99 is only good through January 7th, so don't dawdle! Best Buy is currently showing stock in every colour so you'll have your pick. Just save a grey one for me!
Your order will ship for free from BestBuy.ca. Bonus!
(Expires: 7th January 2016)