Sony Speaker Dock Music System Only $90 @ Future Shop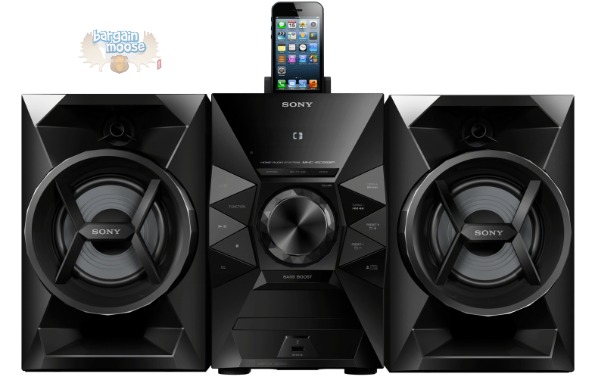 Future Shop has the best deal on this robust Sony iPhone/iPod Speaker Dock (MHCEC619iPN) despite all the Cyber Week deals going on right now. This Sony music system is on sale for $89.99, marked down from $149.99.
This is a popular sale item for Cyber sales this year but my price comparisons show that Future Shop has the best deal compared to other retailers. Check out what the competitors are selling this unit for:
$98 @ Walmart Canada
$149.99 @ Sears Canada
$119.99 @ London Drugs
Best Buy does not even stock this speaker system, so you cannot purchase it there. Even with the deep sale price at Walmart, Future Shop is still $10 cheaper.
This is the best of three worlds merged together. You can dock your iPod and enjoy music from your MP3 player blasted across the large and clear speakers. You can also insert your large CD collection into the disk placer and listen directly from disk. Thirdly, you can tune into the radio and listen to your favourite radio shows like The Vinyl Cafe, one of my husband's favourites.
This device is multi-functioning at its best. Not only does it handle MP3s, CDs, and radio - it also can handle consumer-recorded CD-R and CD-RW discs. it will decode the disks and play each song as if it were a professionally created disk. The system can also play back MP3 files that have been recorded on CD-R/RW discs.
On top of all these awesome features for music lovers, this music system has an integrated clock, alarm, and sleep timer so you can fall asleep with or wake up to your favourite music. On the scale of usefulness, I would rank this music box at a 9/10. I would only take off one mark, as it is not terribly portable. This is definitely a system that will be fixed in your home rather than something you can take on the road.
Overall, I think this is the best system out there to marry old technology with new. I still own a bunch of CDs as I love to play them in my car while travelling. My partner does as well. However, without a system to play them in the house, they are underutilized.
Receive free shipping on orders of $25 or more at Future Shop.
(Expiry: 4rd December 2014)