Sony Canada: Bundle Select TV's & Home Theatre Systems & Save Up To $499.99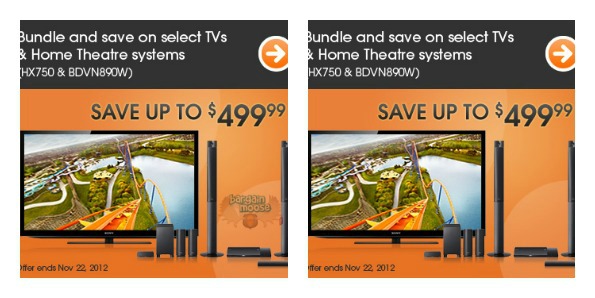 Sony is offering a chance to save up to $499.99 when you bundle select TV's and select Blu-ray Home Theatre Systems. This offer is valid until November 21st 2012 or while supplies last.
We have recently changed our livingroom around and decided that we need a bigger TV, so we are shopping and waiting for the right deal. This may just be it.
With a deal like this, I would go right for the biggest. The 55" HX750 Series TV is a regular price of $2,099.99 and the 5.1ch Blu-ray Disc Home Theatre is $799.99. That's a total of $2,899.98 for the regular price, but when I bundle them, I get them both for $2,399.99, saving $499.99. Who would not want to save $500 when buying electronics?
I also like the 55"EX645 Series TV for $1,499.99 bundled with the BDVE390 3D Blu-ray Home Theatre System for $399.99. These total to $1,899.98, but with the bundle, I pay only $1,599.99, saving me $299.99.
My living room is not huge, but a larger TV with Home Theatre will definitely need some new lighting and popcorn.
Shipping: Free on most items.
(Expiry: 21st November 2012)