Sony Canada: $90 Off Xperia M Dual - Now $180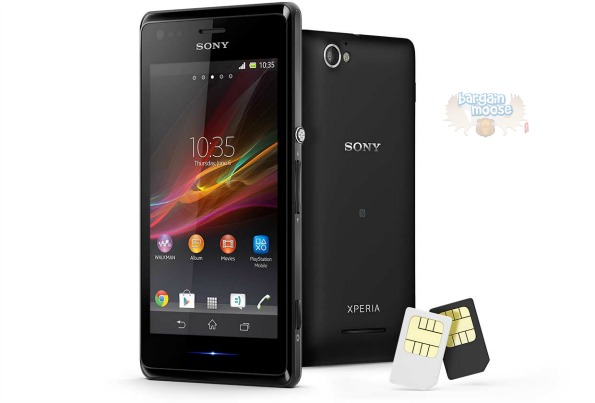 Sony Canada has put their Xperia M dual android-based smartphone on sale from $269.99 down to $179.99.
Sony is one of my favourite brands for electronics. I own a Sony TV, two cameras, and a PS3 that all continue to perform well and have not let me down yet. While I have never owned a Sony phone, I have considered buying one because the price is far more reasonable than my iPhone and my iPhone has spent 18 months seeing how many ways it can disappoint me (under-performing battery, on button refuses to work half the time, phone freezes, etc!).
The Xperia M Dual looks like a very good phone. It has all your basic functionality of a smartphone and comes pre-loaded with your favourite apps like Facebook and Google talk. The phone itself has an internal storage of 4GB and that is expandable with a microSD card, up to 32GB.
I wanted to talk about some awesome features that only the Sony phones have. One of them is called Battery stamina mode. This mode prevents unnecessary battery drain by automatically turning off things you don't need or are not using (while maintaining all necessary notifications). This occurs while your phone is in sleep mode - when your screen is off - so when you turn your screen back on everything is up and running like normal. This is a BRILLIANT feature I would love to try out. My Apple battery is so bad I now carry an Anker external battery wherever I go.
The other thing you can expect from Sony is an awesome camera. The built in 5MP camera comes with features such as:
auto focus face detection
Fast capture Flash/Photo flash
Geotagging
Image stabilizer
Quick Launch Self-timer
Smile shutter
Red-eye reduction
Sweep Panorama
Touch capture/Touch focus
Your camera is also capable of HD 720p video recording for crisp clear videos on your phone. This is the quality I have come to expect from Sony after owning a Sony DSLR for a couple years. If there is anything Sony knows, it is cameras.
They also know sound systems and you will be very happy with the quality of speakers on this unit. The phone comes unlocked and is dual-sim compatible. I am a firm believer in unlocked phones so you can negotiate and renegotiate the best cell phone plan available.
Sony offers free shipping on orders of $25 or more, thus this will ship free.
(Expiry: Unknown)