Sony 55" 1080P 3D LED Smart TV Was $1100 now $800 + Shipping @ Best Buy Canada!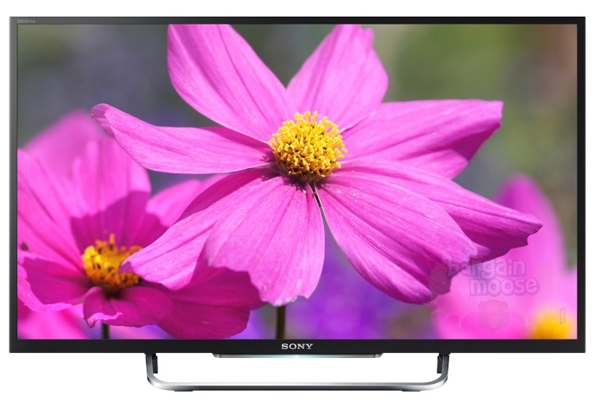 If anyone is looking out for a deal on a big-screen TV, then they'd do well to check out this deal from Best Buy Canada. The black KDL55W800B Sony 55" 1080P 3D LED Smart TV is priced at $1099.99 on their site just now. But when you add this Sony LED TV to your shopping cart, there is an instant$300 discount bringing it down to only $799.99!!
Here's what you should see when you place this TV in your cart: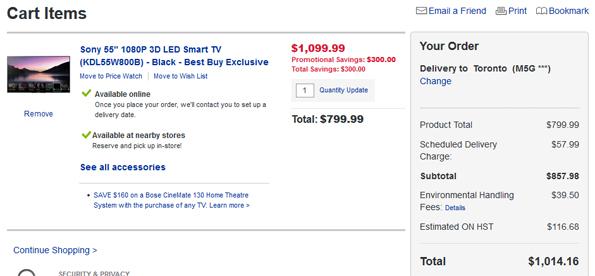 As the KDL55W800B Sony 55" Smart TV is so large, you cannot use the collect at store option from Best Buy. You can only choose the scheduled delivery option which unfortunately costs a little extra. As you can see in the screenshot above, it seems to be an extra $57.99. But, as the TV is discounted by the extra $300 anyway, that really makes up for that additional delivery charge.
Price Comparisons
As for price comparing this TV elsewhere, Best Buy's price is definitely the best of the bunch. The same model is $1084+ on Amazon.ca and it's $1100 from Sony themselves. It's not sold at many more online retailers to price compare. But this is a mega-whopping TV for the money!
Reviews
There's only one review on the Best Buy site, giving this TV a positive rating of 4 stars out of 5. There aren't really many reviews elsewhere as this seems to be a model exclusive to Best Buy. However, there are 189 reviews here on Amazon.com, the majority with positive comments… but a few negatives too. That might be worth a read.
Add-Ons
If you are so inclined, there's another deal at best Buy involving a home theatre system. If you buy this Bose Cinemate 130 home theatre system which is $1599.99 along with your TV, you get an extra $160 discount in your cart. Obviously that's a pretty big additional spend, so might need a little research and homework before you buy. :)
(Expires: Unknown)