Smartphone Controlled Helicopter: Only $24.95+ Shipping @ Sale4TheDay Canada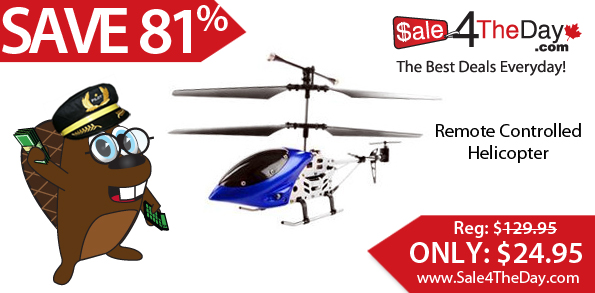 Over at the Canadian daily deal site Sale4TheDay.com, they've got a special offer on a remote controlled helicopter today, it's a helicopter which you can control with your smartphone! The GYRO iFly Heli Metal 3.5CH Electric RTF RC Helicopter was $130, but you can now get it for $24.95 + $4.99 shipping (a total of $29.94).
It's hard to do a true price comparison on this item, as this exact one isn't sold at many Canadian stores. But to give you a general idea, I've found a similar one here for $60 on NCIX, one here for $70 on Costco, here for $40 + shipping on Factorydirect.
These kind of gadgets are pretty good fun for a couple of days, when they're new and fun to play with. My brother-in-law got a similar one for Christmas, and spent the rest of the day crashing the helicopter in to various relatives and household objects. I was not pleased when he crashed the helicopter in to my little 18 month old girl's arm, leaving a mark on her! I was quite frightened of the little helicopter blades to be honest, so I was not happy at his piloting skills.
But if you're stuck for a gift idea for a gadget lover and they don't yet have a helicopter of their very own, then this could be a good gift.
(Expires: 5th July 2012)