Save $15/$16 on Comfy Kids Beanbag Chairs @ Best Buy Canada: Now only $44 & Free Shipping! (TODAY ONLY) (EXPIRED)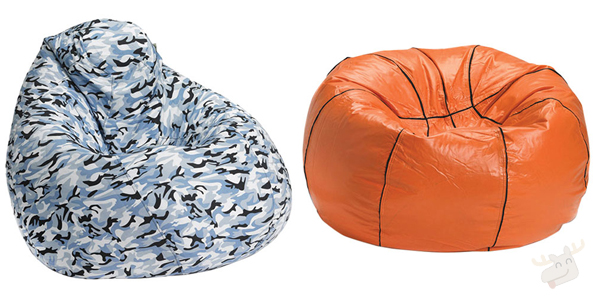 Best Buy is telling us to "kick back and relax on a beanbag chair" and they're giving us the incentive to do so – in the form of discounts on select beanbag chairs, today only! There are two items that really stand out – the basketball beanbag and the camo beanbag. Both have been reduced by $15 or $16, each down to only $43.99. And that includes free shipping, of course!
This appears to be a one-day only sale online at Best Buy Canada. You can see more beanbags on offer here, but the ones I have highlighted above seem to be the most highly discounted, and they're the best bargains from the bunch.
Some of the features of these beanbags:
Lightweight / easy to move
Two childproof safety lock zippers
Made in Canada
Made with clean / safe virgin bean
These beanbags are only available online at Best Buy, you won't see these in-store. Buy today if yo are interested!
Price Comparisons
Beanbags are hard to price compare, as they vary wildly and you can buy so many different types and styles. If you are looking for beanbags on Sumolounge, the bean bag specialist, you're paying at least $79 for their basic model there. There are some slightly similar chairs here on Walmart.ca for a bit less but they're pretty plain and boring, there's nothing special about those… whereas these colourful beanbags from Best Buy are funky and functional too.
I think young kids would love the basketball one, in particular!
(Expires: 27th August 2015)