Save $10 on a Mattel Toy from Save.ca (Facebook)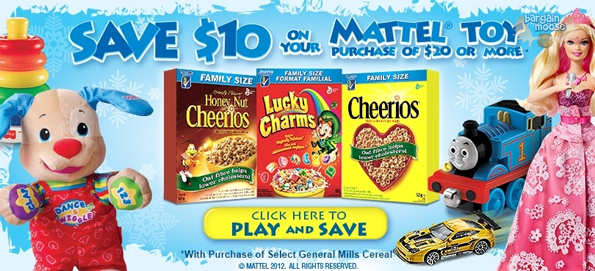 You can save $10 on your purchase of a $20 or more Mattel toy with a coupon from save.ca. Simply go to their facebook page and press "Click Here to Play and Save" to be redirected to the right page on their site.
If you are not a member of save.ca, sign up to get this coupon, plus many others available on their site. Once you've chosen the coupon, save.ca will send it to you in the mail. The fine print says that this coupon is valid with the purchase of a select General Mills cereal.
This coupon can't come fast enough for me. With lovers of Thomas & Friends and Hot Wheels in my house, this coupon will help lighten the load of my Christmas budget (well, just a little bit). I also have younger nieces who love Barbie, and older ones who can't get enough of Monster High. This coupon is definitely one to share with friends and family and you can easily do that from the facebook page.
(Expiry unknown)