MacWashingMachine.com Exclusive Coupon: Put Your Mac Through The Washing Machine & Save 20%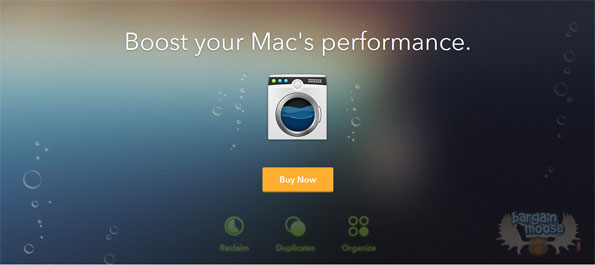 I bet you have never put your Mac through the washing machine! Do so now, and use our Bargainmoose exclusive coupon to save a whopping 20% on all WashingMachine software (only valid for first time customers).
Boost your Mac's performance @ MacWashingMachine.com now
Coupon code: MOOSE2014
Discount: 20% off
Expiry: 1st December 2015
Having just recently sold my very first ever Mac, I totally understand why anyone would want to put it through the washing machine! In all seriousness though, the Mac WashingMachine is actually a nifty piece of software with a variety of cool features that serve to speed up any Mac by freeing up space, removing duplicate files as well as organizing files and folders.
Depending on the number of Macs you intend to wash, prices are as follows:
One Mac: $29.99 / with exclusive $23.99
Two Macs: $49.99 / with exclusive $39.99
Up to Five: $79.99 / with exclusive $63.99
This software works on the vast majority of Mac operating systems, from Snow Leopard to Lion and most recently Mavericks. As long as your OS X version is 10.6 or higher, then you're set to go. To check, simply click on the Apple menu on the top left corner, followed by "About This Mac".
Although online reviews for Intego's Mac Washing Machine aren't numerous, this useful software has garnered an average user rating of five stars out of five on CNET, along with a MacItFaster.com review praising it as being a good program against information theft.
For more Mac WashingMachine coupons, be sure to check out our forums. In fact, we also have a Bargainmoose exclusive for $5 off any Intego Washing Machine 2014 software (new customers only).