PROSCAN 7" Tablet (Case & Keyboard) Was $64 Now $48 & Free Shipping @ Walmart! (EXPIRED)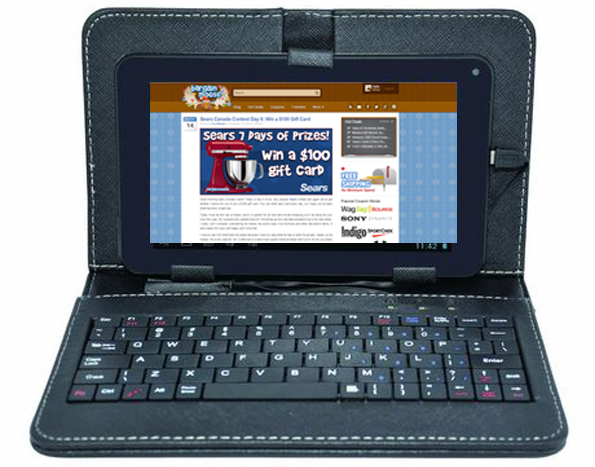 If you've been on the lookout for a budget tablet that won't break the bank, you could consider this clearance deal from Walmart.ca. The PROSCAN 7" Android 4.1 Tablet with Case & Keyboard (PLT7-K) was previously priced at $64 and it's now down to only $48 with free shipping.
As you can probably tell from the price point, the PROSCAN 7" PLT7-K Android 4.1 Tablet is not going to be the most powerful and amazing device in the world. You DO pay for what you get in this type of thing, but if you really only need something basic, this is definitely one to consider.
As for the specification itself, here are a few of the important points:
7" capacitive multi touch display with case and keyboard kit
800 x 480 pixels resolution
Up to 1.2GHz processor
Android 4.1 Jellybean operating system
Camera & rechargeable battery built-in
4GB NAND Flash and expandable up to 32GB via memory card
You can see that it's not terribly powerful and doesn't actually come with a lot of in-built memory to start with. But, it is expandable with a memory card, which you can pick up at a low cost these days.
Ideas for things you could use this Proscan tablet for:
For young kids to play basic games like Angry Birds / Candy Crush
For long car trips, entertaining the kids
Cheap multi-media device for using round the home
Using for basic social functions, such as emails, Facebook, etc
It's really not comparable to an iPad Air or anything like that, but it's just a basic tablet for some basic functions.
One thing you might want to note is that it's not compatible with Google Play, so you cannot download any apps from there. The choice in apps might be a little limited, as this reviewer stated:
NOT Google Licensed for downloads… You cannot download any aps from Google Play… Your options are very limited.
Take that into account if you're buying.
To be honest, this would be the type of thing I'd buy for my little 4 year old daughter, but I'd give her a strict time limit on usage of the games, etc. I don't want her to get screen addiction too young!
(Expiry: unknown)