President's Choice Mobiles With $10 Free Groceries!
This is a back-to-school offer from President's Choice. If you buy one of their mobile phones, they will award you with a free grocery coupon for $10!!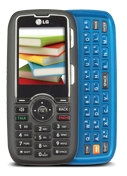 It says to check the in-store displays for more info.
The website states that the President's Choice mobiles start at $49. Perhaps you just wanted a little basic handset for yourself, or perhaps one for your kids.
My sister has an 8 year old kid, who often roams the neighbourhood, in search of adventure. She has a spare mobile phone, just a cheap handset like this, and she sometimes give it to her son to have with him on his travels. Then, when dinner is ready to go out on the table, she can give him a quick call to let him know.  She doesn't have to strain her voice by screaming out the door!
This offer expires 16th September 2009.