Office Depot Printable Coupon and Coupon Codes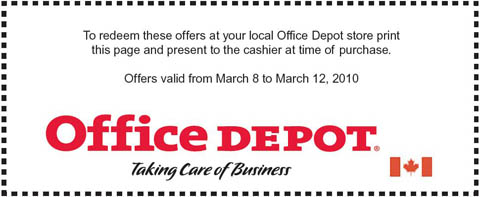 Here is a sheet of coupons you can print for in-store shopping and coupon codes for online shopping from Office Depot Canada.
These are valid to use until 12th March 2010, so if you need office equipment and supplies, now is the time. Some products for use with the coupon include:
Save $60 on HP Laser Jet Printer
Save $40 on Epson Stylus Colour All in One
Save $70 on Brother Laser All in One
Save $10 on Lexar 4GB USB Drive (2 Pack)
Save $30 on Seagate FreeAgent Go 500GB Portable Drive
Save $8 on Memorex CD-R Media Spindle
These also come with coupon codes for each item to use online.
I could really use the 4GB USB drives. Of the four that I've had over the past few years, I have broken them all. So, maybe I should buy a few packs of them for backup!