Newegg: Cuisinart 19-Piece Cutlery Block Set $80 (Save $70) + Free Shipping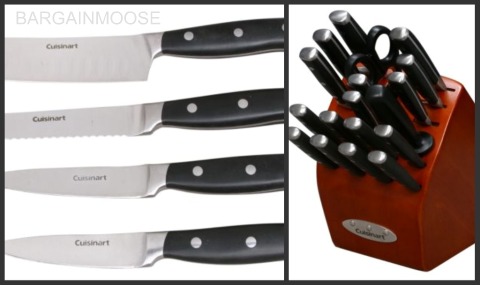 This is one of the deals of the day at Newegg: It is a 19 piece Cuisinart 5037009 CA-X 19-Piece Cutlery Block Set. Usually priced at $149.99 it is on sale for $79.99, with free shipping! You save $70 and shipping costs, which would be around another $10.
The set consists of:
8-inch chef's knife
7-inch bread knife
6-inch chef's knife
5-inch serrated utility knife
6-inch santoku knife
3-1/2-inch paring knife
4-inch fine edge utility knife
5-inch santoku knife
Eight steak knives
Shears
Sharpening steel
One cherry finish storage block
There are some very positive, and very negative reviews on the website for this set. I checked the set out on amazon.com (which had it on for $90, but out of stock)  and 2/3 of the reviews on there were positive. The main consensus on Amazon seemed to be that you need to hand-wash these knives. We do that with our Henkels anyway, so I don't see that being a huge problem. For the price though, this is a huge set - 19 pieces - and Cuisinart is generally a great brand.