Newegg Canada Pot Of Gold Deals: Up To 73% Off Select Electronics, Software, Parts, etc.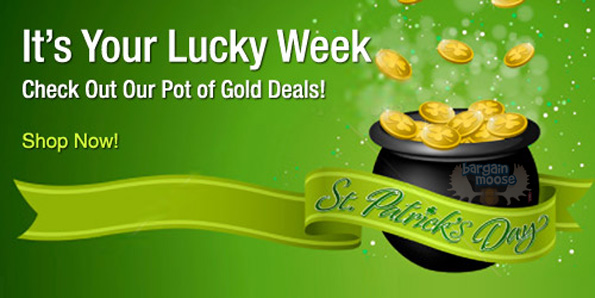 As luck would have it, Newegg Canada in celebrating St. Patrick's Day with their Pot of Gold deals filled with major discounts on plenty of items from categories like: desktops, laptops, televisions, digital cameras, computer parts, smartphones, and many more!
With tax season already in full swing, I bet some of you moosers have been looking for a good deal on tax software and Newegg's 33% discount on Intuit Turbotax basis TY13 may be just what you need. Originally priced at $29.99, it's currently on sale for just $19.99, which is a fantastic price considering it's $39.99 on TurboTax's own website.
For those of you who specialize in computers or know someone who does, then the Rosewill 45-pc premium computer tool kit is also currently on sale for $16.99 (reg. $29.99). With a little over 1700 reviews, it has actually garnered a resounding consensus of 5 stars out of 5 with reviews like:
It included all the tools I needed for my new PC build. I never had dedicated tools for the task and this was it! I also was able to use some of the extra screws from the kit for my build.
There are plenty more products to choose from though, such as the Nikon COOLPIX p500 digital camera, on sale for $129.95 (reg. $229.95), and which features 36x optical zoom, 12.75 MP camera and full HD 1080 video recording. Although it's refurbished, it's still a major steal of a deal especially since on Amazon, this same camera (although non-refurbished) is currently priced as high as $527.92.
Plus, refurbished isn't anything to be scared of. It simply means that a certain part may have been replaced within the item or the product may have been returned because of a dent in the original box. Either way, you can rest assured knowing that the product has been well tested and anyways, you really can't go wrong at that price!
Shipping fees vary per product.
(Expiry: 17th March 2014)