Microsoft Store: $200 Off Nokia Lumia 1020 - Now $349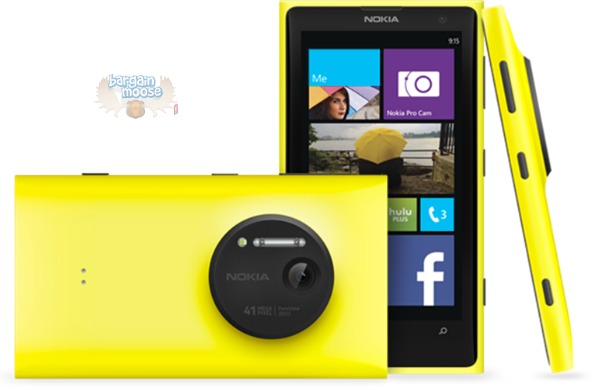 The Microsoft Store is offering an unlocked Nokia Lumia 1020 for $200 off its retail price. Originally $549, the phone is now on sale for $349 with no contract.
This phone comes with two colour options: black or yellow. The black is already out of stock, but could be restocked as this deal goes into February. While the yellow is a bit flamboyant in terms of colour, that has its benefits. First, it will be a lot harder to misplace your phone. In addition, if you do misplace your phone, it will be easier to find a bright yellow device than a black phone.
The Nokia Lumia has a 4.5-inch PureMotion HD+ screen with the phone being slightly larger. The 41-megapixel camera will take good quality selfies and pictures of your cat while the 32 GB storage will handle all the apps you can load on it (along with a good supply of pictures). The phone is Windows 8.1 ready. That means it comes with Windows 8 and you need to run the update when you receive the phone.
Reviews are mostly positive, with a few negative and mediocre thrown in for a good mix. One reviewer said:
love this. wanted an alternative to android that performed well. got it in this beauty. the photos are amazing and the item is not as complex and fast as a lot of other phones, but it delivers reliable and beautiful service to windows users.
Some people have experienced issues with the battery. Several reviewers say that the phone can eat through 70% of its battery on days of heavy use. That appears to be the primary complaint from the few people who were very dissatisfied with the phone. However, most reviewers actually love the phone. 19/28 reviews are for a full 5/5 stars and even with the negative reviews, the phone still averages a 4.1/5 star rating.
While yellow might not be my first choice for a phone - oh wait, it would match my car! - this is still a very good deal on an unlocked phone with no contract. Take this phone to your favourite carrier and feel free to move carriers when you see a better deal. That is what I do with my phone.
Receive free shipping on all orders at Microsoft Canada.
(Expiry: 13th February 2015)