Lexar 128GB JumpDrive (USB 3.0) Was $75 Now $45 & Free Shipping @ Best Buy Canada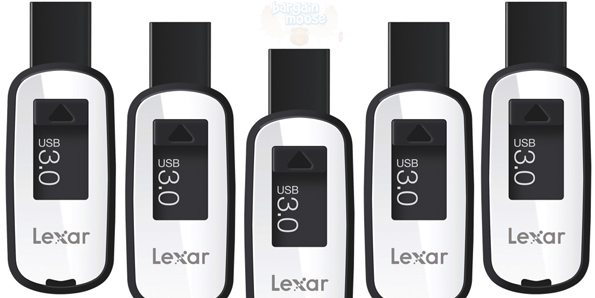 Need some extra portable storage for your movies, files, pictures or documents? Check out the deal on this black Lexar JumpDrive 128GB USB 3.0 Flash Drive (LJDS23-128ASBNA) – it was $74.99, there's $30 off and it's now only $44.99 with free shipping, online at Best Buy Canada.
The USB flash drive features a retractable connector with an thumb slide which pops the conector in and out when you want to use it.
Even though it's USB 3.0, it's still backwards compatible even if your device is another version of USB, so you don't need to worry about that. The flash drive will also work on PC or Mac.
Reviews
The ratings on Best Buy seem to be a little poor; six people voted this Lexar flash drive with only one star out of five. The Best Buy site doesn't seem to show us the actual text that people wrote or the reasons for these poor reviews. If you're interested to hear more opinions, have a google around and see what you think.
If you're interested in a pen drive with the most bang for your buck, this actually works out to be $0.35 per GB which is a very low price for flash drives. Consider what you're going to be using it for and then make the decision if you're happy to buy at this price. If you're using it to transfer important documents for work or something, you might be interested in getting a more high-end and reliable model… but if you're just using it to pass round some low-risk unimportant files, then this is a great deal for the money.
Warranty
You'll be pleased to hear that this Lexar flash drives comes with a three year limited warranty to cover you should the drive break in that time period. Just make sure you keep your proof of purchase in case anything happens.
You know, I've had many pen drives over the years… maybe as many as ten or eleven, but I've never had a faulty one! I usually tend to just get bored of one and move on up to the next size available. Or, lend them to friends and family to share some documents… then never see the flash drives again. :)
Price Comparison
The very same flash drive is $70+ on Amazon.ca, $52 @ Tigerdirect.ca, $107 @ Expansys.ca. The online price at London Drugs states that it is only $41.99, but it's not available to order there anyway, so it's not really a valid comparator. It's possible you can check in-store for it at the lower price, but that's just not as handy as ordering online from Best Buy Canada.
(Expires: Unknown)