Lenovo 7 Days of Prizes Day 2! Win a Portable Speaker (CLOSED)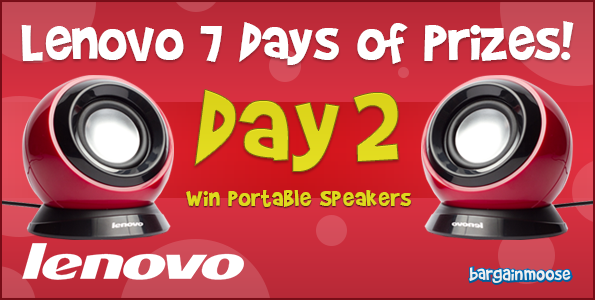 *** Contest now closed, winner was Mooser Christopher! ***
Since yesterday went so well with people wanting to win the mouse, I think today might even do better with a portable speaker prize on the line! With a regular price of $29.99, you can win this Lenovo speaker by entering this contest.
The speaker comes in red and looks very sleek on a desk or elsewhere. It is ultra-portable and will move along with your laptop, powered by USB. I'd actually love to win this contest (I can't) because right now I listen to all my music with my laptop's internal speaker. I have to admit, it sounds like crap! Maybe my husband will read this and get me one. :)
If you want to take a browse of what Lenovo has to offer, I see a few hot deals that you don't want to miss. This Lenovo doorbuster would make a seriously great gift. I know, because I have one! The Yoga Tablet 2 is such a fun tablet to have. I love that it has the little built-in stand so I can sit it down and watch what I need to watch on it. The rest of my family have tablets that you have to hold and let me tell you, your arm gets tired! This is especially great for watching cooking shows or reading recipes while cooking.
Right now, Lenovo has this on for only $259.99, which is a very good price! I also love the large screen, as I find the 7" screens are too small for my purposes. It has really great reviews too, like this one:
With a great price offer over Christmas, I took a chance and bought two sets since I've always wanted speakers to listen to my music from my laptop. Wow! I'm glad that I did because they are awesome! Loud enough, and they sound great. Now, I can wake my son up for school with music as if he's at a disco. I hope that my sister will enjoy hers as much as I do. I only regret not getting another set for myself. Keeping my fingers crossed that they will last a very long time.
There are also some great coupon codes from Lenovo on the forum that could bring your price down on so many items. We even have two exclusives!
How to win this prize?
What Lenovo products do you currently own and how do you feel about them? Please comment below!
Get bonus contest entries!
Rules:
Canadian entrants only
One entry per household
Ends 3rd December 2014
Rules subject to change at admin's discretion