LeapFrog LeapBand Fitness Tracker Was $40 | Now $24 @ Amazon.ca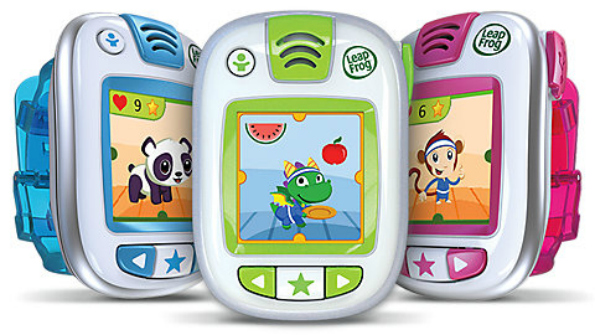 Are you worried that your child is not getting enough exercise? You should check out these cool activity trackers made for kids from LeapFrog. They encourage children to make healthier choices on a daily basis. Originally $39.99 each, they are now on sale at Amazon for $23.97 each in pink or green.
This is the first activity tracker ever designed for kids. The band encourages physical play to keep your kid on the move. There are 50 active challenges that get your kid moving around. For example, your child can "pounce like a lion". Imaginative play is encouraged! Shipping is free on $25 or more so merely add on this LL Chicken Little Bk for $1.32 or this Matthew's House book for $1.35 to get free shipping.

This fitness tracker band is designed for children ages four through seven. However, your own child's development will tell you whether this cool little toy/fitness gadget will be perfect for your child. The LeapFrog LeapBand encourages your child to make healthy, active choices that will have positive effects on their health.
Parent controls are built in to LeapFrog Connect where you can set play times, challenges, and more for your child. The LeapBand works around your schedule so you can set times that are convenient for your family. Schedule in play time and give your child goals based on their own activity and developmental level. Increase those goals as your child grows and adapts to the LeapBand.
The LeapBand currently costs $39.95 @ Chapters Indigo, $39.96 @ Walmart Canada, and $39.99 @ LeapFrog Canada. I did find this device on sale for $23.97 @ Toys R Us Canada but their free shipping minimum is SO much higher.
This device is customizable to your child's tastes. They can pick one of eight pets, including a unicorn, robot, dragon, and more. Choose a name for the pet and choose its colour. This 'pet' will be your child's trainer and companion. With the pet, they will learn about good hygiene, fitness, and healthy habits.
This is a great accessory to help make good habits fun for kids. In our busy world it seems like everyone is pressed for time so this device helps you help your kid find time for healthy options. Who knows, you may even want one of these for yourself! These make great Christmas gifts.
(Expiry: Unknown)