Laptops from $197 with 40% off Code @ Dell Refurbished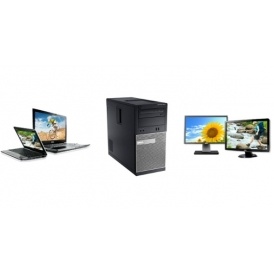 Dell Refurbished is offering 40% off again! If you missed the sale earlier this year, you'll want to take advantage now. There are laptops for less than $200 with the discount applied. Just enter SPRING16 at checkout.
The Dell Latitude E6420 is a good, basic laptop with a speedy i5 processor, 14" screen and a DVD drive. The grade B (come minor cosmetic imperfections) is currently listed for $329 but after applying the code, it's just $197.40. If you think you'll need a bit more storage space, this model has a bigger hard drive and it's just $227.40. It will also ship for free as it's over $200.
If a desktop fits better into your home life, the OptiPlex 790 also has an i5 processor and is listed as cosmetic grade A; it's just $209.40. If you're starting from scratch, you'll also need a monitor. You're in luck because, with the promo discount, Dell has monitors for as little as $35.40.
Dell Refurbished offers a 100 day warranty; products can be returned within 30 days (with a restocking fee). They ship orders of $200 or more for free!
(Expires: 10th April 2016)