KitchenAid 7-Cup Food Processor Was $110 Now $90 @ NewEgg.ca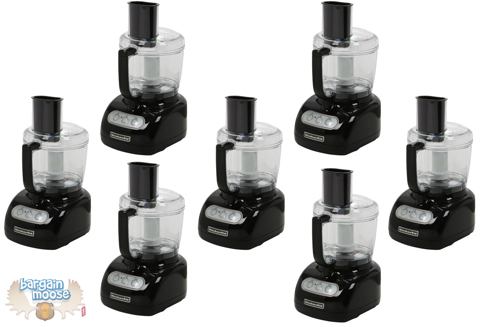 I was browsing the recent specials on NewEgg.ca, as they've had quite a few good offers lately. I spotted a fairly nice price on this KitchenAid KFP715OB Onyx Black 7-Cup Food Processor w/Slice-Shred Blade - it was $109.99 and it's now down to only $89.99, with free shipping too.
Price comparisons that I can find online: $149.99 @ Sears, $199.99 @ Best Buy,$149.99 @ Future Shop,  it's the same price at Amazon.ca but they only have 1 left.
Quick specifications:
7-cup work bowl
Stainless steel multipurpose blade
Full-size feed tube and pusher
Locking lid & Pulse control
Reversible 2mm slicing/4mm shredding disc
There are many positive reviews on the Amazon.com site, giving the KitchenAid KFP715OB a score of 3.5/5 overall. I'd recommend a read of those before you go for this item, because there are both positive and negative points to be considered.
I couldn't live without my food processor, I use it at least once per week. Mine is quite large though, this Kitchenaid one seems like a smaller model as it is only a 7 cupper.