iLuv Modern Box Phone Dock Speaker Only $5.97 @ Best Buy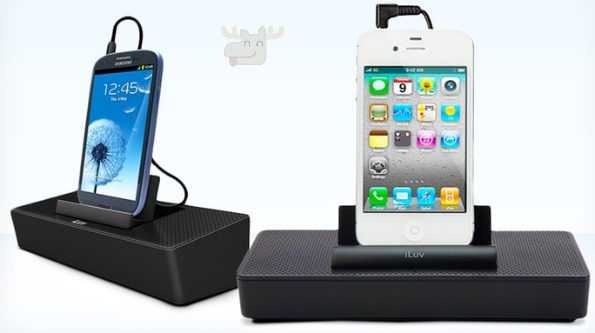 Best Buy Canada has put this iLuv Modern Box Aux-in Portable Speaker Dock (iSP125BLK) on final clearance. This little device combines an external speaker with a phone dock that allows will hold your phone in either portrait or landscape mode. Originally $24.99, this little speaker/dock combo is now on final clearance for $5.97 at Best Buy.
This speaker is a great price and would make an excellent tech-based gift that you can wedge into a stocking come this Christmas. For younger children, this speaker comes at such a great price that you will not mind if they break it. Given the price point, this is not your best quality speaker but it does give good value for the price. I have broken down the pros and cons below.
The Pros
This is a lightweight portable speaker that you can simply throw in your bag and carry with you. It has twin stereo full-range speakers for good sound. In addition, it includes an adjustable stand for your iPhone so you can view your iPhone in landscape or portrait mode while it is plugged in. The 3.5mm jack also stows away when not in use. At this price - the iLuv speaker is a fantastic deal.
The Cons
I do not like that this speaker does not come with a rechargeable battery. Instead, it uses three AAA batteries (not included) for power. This could be good if you don't have time to charge your device, but it means an ongoing expense (unless you own rechargeable AAA batteries). Also, your phone needs to be plugged into the 3.5mm jack. At this price point though, you just do not get wireless capabilities.
Given this amazing price point, you should get one. I price compared with anywhere else I could find the device. It currently costs $39.99 in the Amazon Marketplace. I found it sold out at Newegg.ca for $17.29. Groupon once had a deal on this little device, but they still charged $8.99 + $2.99 shipping = $11.98. Over 1000 sold with that promo. Now you can get one for half that price!
Shipping is free on orders of $25 or more.
(Expiry: unknown)