HMV: WII Console with Wii Sports only $99.99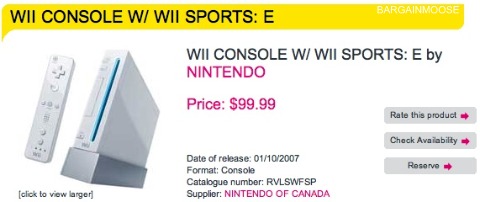 This is an in store deal but you can reserve online or rush in store (and I would do it quick if you want one). You can get a Wii console with Wii Sports for only $99.99! Wow!
There were 0 in stock in two stores near me, and 1 available at a 3rd store.. these babies are going like hot cakes. I had trouble getting HMV to find stores so I would go into my account and change my store preference to different ones around the city so it would find them when I went back to the item. On other sites the cheapest I could find this combination was $157.
The Wii looks like so much fun, especially for families with kids... or grandkids!