FutureShop Customer Appreciation Sale On Now!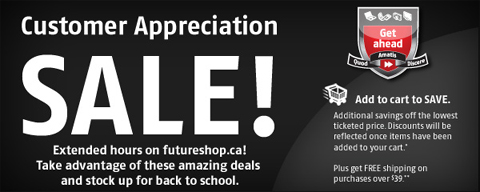 It's another customer appreciation sale from FutureShop Canada, and it's online right now! It will end on Tuesday the 25th August, at 10am EST. If you want to see the savings on the products, you must add them to your cart and you will see the appropriate discount there.
There are a lot of broad discounts across the store, if there was a particular item you were looking for. Some examples:
10% off select digital cameras, DSLRs, camcorders & 20% off digital memory
Save the GST on select monitors, laptops, printers, hard drives & tablets
SAVE 20% on select CD/MP3 car decks & car video
Save 10% on select appliances (freezers, laundry, dishwashers)
Plus lots more, too many to mention!
In addition to those broad discounts, there are various deals on individual products too.
The sale also starts in-store @ FutureShop today, Monday the 24th August, 2009.