Future Shop: Monster Adidas Headphones Were $250 | Now $130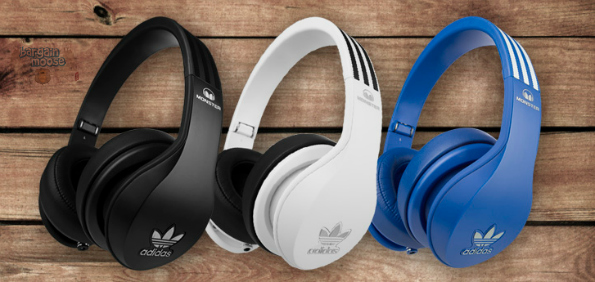 If a new headset is in the budget for this year, then toddle on over to Future Shop for a brand new pair of Monster ADIDAS Over-Ear Sound Isolating Headphones. Originally $249.99, the headphones are now on sale for $129.99.
This deal is also available at Best Buy if the headsets sell out at Future Shop. Price comparing the Monster Adidas headphones proved more difficult than I expected. They appear to be rather difficult to find in Canada - new. The only Canadian online retailer with the headsets in stock is Sport Chek; they sell the Monster Adidas headphones for $279.99 each. I found an old cached page from Adidas US where the company themselves had the headset on sale for $224 US, but they are no longer available. Secondary sellers on Amazon.com start their prices at $200 US. eBay prices are all over depending on how new, with box, and other things but you will certainly be paying far more for a new headset off of eBay with taxes and duties added on.
The headset comes in three colour combinations:
blue/white
black/white
white/black
I have to say that the blue is my least favourite colour while the other two look very nice in my opinion. Now, we do not always buy headphones for the aesthetics so here are some of their cool features. The ADIDAS Monster headphones feature MusicShare dual ports that allow you to link multiple MusicShare-compatible headphones together so you all can listen to the same music together. This beats sharing earbuds - trust me. Each headset has passive noise isolation to block out environmental distractions. The cable comes with ControlTalk allowing you to control your music playback and your calls when connected to an Apple device.
The headset also folds up easily for storage. This may be a small thing, but for anyone who loves to wear headsets rather than earbuds - transportation is very important. I value quality of sound over everything. Second, I would say lightness is important, as I like to wear my headset for long periods. However, third would be transportability. I need to be able to take my headset with me without it being awkward or there is really no point in owning it.
This is a cool headset at a great price. Receive free shipping on orders of $25 or more. I can see these selling out quickly.
(Expiry: 22nd January 2015)