Future Shop Canada: Home Theatre Blitz (Jan 24-28)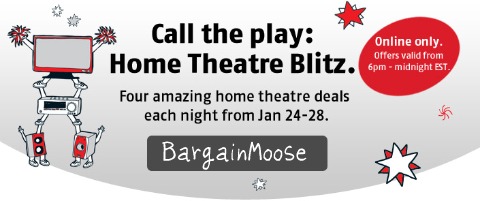 Whenever Superbowl rolls around, so do the big deals on home theatre systems! From 24-28 January 2011, Future Shop is featuring four different home theatre deals each night, from 6pm-midnight EST. This offer is valid online only.
The new deals are revealed at Future Shop at 6pm EST!
This hot deal is featured now at Future Shop. Get a Polk Audio 5.1 Home Theatre Speaker System for $599.99. The deal? Add it to your cart and save $300! This system is rated and average of 4.5/5 stars by 77 Future Shop customers.
For everything you need to set up your TV and DVD player for your home theatre system, The Monster Promo HD Home Theatre Set Up Kit is priced at $139.99. Add it to your cart and you'll get an additional $90 off! It says that this item is only available from 6pm-midnight on 24-28 January 2011, but I was able to add it to my cart outside of those hours.
Can't wait to see what tonight's deals will be!