Dramatic $14 Notebook or Desktop PC Audio Enhancement @ Amazon.ca Marketplace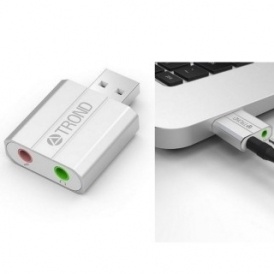 I had never heard of a USB audio adapter until I bought one myself when I saw it a few months ago on Amazon.ca. I bought mine because I noticed that this USB Audio adapter had been well received by the reviewers, and it was touted as being suitable for greatly enhancing the sound on speakers on laptops when connected through the 3.5mm (universal small headphone size) adapter.
This is an Amazon.ca Market product sold by seller eTROND-CA, and because Amazon.ca fulfills the order they are shipping it directly from their warehouse with their usual speed and efficiency. There is also an 18 month warranty on this, and a 30 day money back guarantee, so you will not be risking anything at all if you order it.

One of the most cool things about this device is that if your sound card on your laptop is broken, or, if the sound jacks are no longer working properly, you can use this to bypass all of that broken mess and have clear audio! It works with speakers or a headphone set.

I wondered if I really needed it, since I could already hook my laptop to external speakers - What was the big deal? The reviews pulled me into purchasing it though, and it turns out - it is a HUGE deal.
It still boggles my mind that the price can be so low on an item that creates such a dramatic difference instantly. (No drivers are needed since it is plug and play and works with both Windows OS and Macs.) This Trond USB audio adapter is selling for $13.99, on sale from the listed price of $24.99. You can purchase it in a black colour, or silver tone.
Shipping is free if you spend over $25 on Amazon.ca eligible products, so buying two of them makes sense to receive free shipping (to give one as a gift, and keep one for yourself!) This Trond USB audio adapter will actually arrive in time for Father's Day! Shipping on one unit will start from only $4 and up.
(Deal expiry: Unknown)