Dell.ca: Sharp 42" Monster TV Deal! (Quick)
Wow, look at this nice piece of kit! It's a 42" Sharp LCD TV from Dell Canada! It's priced at only $865.97 and that includes free shipping too. 42" of lovely LCD TV! Yes please! The previous price of the LC-42SB45U LCD TV was $1239.97, and has been reduced by $374 – nice!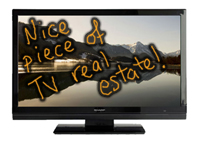 Click here to check out this awesome deal from Dell Canada.
I'm not very savvy when it comes to the technical specs of this kind of thing, but here are some points that might interest the tech-savvy Bargainmoose readers:
Full HD 1080p
Three HDMI Inputs and two component
Built-in ATSC / QAM / NTSC Tuners
There are a few customer reviews and ratings here on the Cnet site.
Hey! Don't forget you can get up to 5% cashback from shopping @ Dell through Dealguild Canada.
I have a 1080p Panasonic 42" TV, and it's just gorgeous. My friends all have smaller TVs, and they're so jealous of the size of mine. Needless to say, Wii games nights are always held at my house. Plus I ALWAYS make them wear that darned wrist strap.
EDIT - deal reported to be good until April 11th 2009