Dell Latitude Refurbished Laptop Was $389 | Now $298 With Exclusive Coupon Code + Shipping @ refurb.io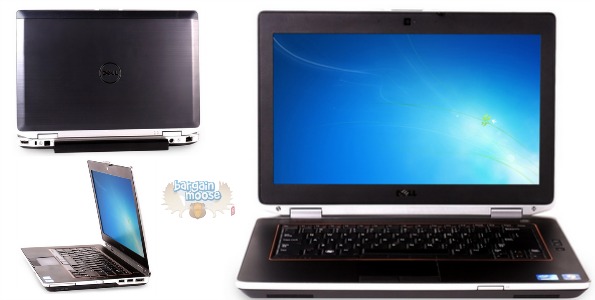 Refurb.io is edging out the competition with the refurbished Dell Latitude E6420 laptop. This laptop was $389 and is on sale for $348. Add the exclusive coupon code and the price drops to $298.
Click here to buy the refurbished Dell Latitude E6420 laptop @ refurb.io now
Coupon code: MOOSEKLUSIVE
Discount: $50 Off the refurbished Dell Latitude E6420
Expiry: 8th May 2015
My laptop handles both my business and entertainment. When I am shopping for a laptop, I am looking for something a little bit beyond a basic model. If you are looking for something with a little more power, then you want to check the Dell Latitude E6420 Refurbished Laptop that comes packed to keep you running smoothly. This 14.1" notebook comes equipped with a 250-gigabyte hard drive, Windows 7 Professional and four gigabytes of ram. This notebook is also set to handle media with a DVD-RW allowing you to access and burn both CDs and DVDs.
Price Comparison
Staples Canada has a refurbished version of this laptop for $350.90 and it includes free shipping but a very short warranty. TigerDirect.ca has this same refurbished laptop for $389.99 and you will pay for shipping costs. I tried a couple different locations across Canada, and the shipping rates vary drastically but are all over $12. Shop.ca is selling a refurbished version of this laptop for $449.99 and it includes free shipping. You could also buy a refurbished version of this laptop at Dell.ca for $509 with free shipping.
Shipping
Shipping varies based on your location. I find the price a bit high at $18.99 to Quebec, though the amount will adjust to your location. When I crunch the discount numbers, this deal still comes out ahead of what I can pick up elsewhere.
Reviews
There is one positive review on refurb.io for this laptop. The user is really happy and has written a lengthy note. I also see that PC Magazine has given this laptop an excellent overall rating. I would say this is a solid buy, the comments at PC Magazine are also checking out with most praising this laptop.
Warranty
While the Staples deal is not terrible, you really are getting a better deal at refurb.io with this exclusive coupon. These guys specialize in refurbished products. With a one-year warranty and a 90-day warranty on the battery, refurb.io is giving you the guarantee that this refurbished product is going to be top of the line. The Staples deal on this same laptop has only a 90-day warranty. When buying a refurbished product, that one year warranty helps give me the extra peace of mind that the product is solid.
Are you still debating what model computer is best for your needs? If you check out the coupon code forums, we also have an exclusive 10% off desktops with the code MOOSE10. Save yourself some extra cash with that code also.
(Expiry: 8th May 2015)