Dell Canada: 48 Hour Sale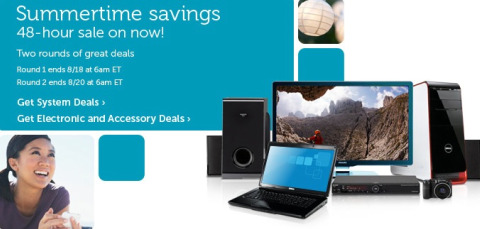 So I didn't think I was going to post about this because Dell often has 48 hour sales, but after looking through their sale inventory I couldn't resist! First, the basics: Dell is having a 48 hour sale, make that two 48 hour sales.
Round 1 ends on August 18 @ 6am ET.
Round 2 ends on August 20 @ 6am ET.
Items currently in the links below will CHANGE for round 2. So get them while you can!
The tipping point for me posting this deal was this: Aluratek Libre eBook Reader PRO - White ~ Originally $169.99 Now: $99.99. You save $70 off an eReader! I looked this reader up on Amazon.ca and it is on there for $169 and they say list price is $210 (compared manufacturer part # to get the right eReader). It comes preloaded with 100 classic books. Here is a review off of Dell's website:
Much better then the more expensive ones from the competition, and MANY more features. Supports more eBook formats, supports mp3 files so you can listen to your own music while reading, comes with a 2gb card with some decent books (all classics). Only thing missing is a back-light, it's hard to read in the dark, but in sunlight, or by a night lamp, I have no problems. Also has several font sizes if you have eye problems, and very easy to use, I never even had to look at the manual. (4/5 stars)
So this is why I posted this. I couldn't resist such a fabulous offer! If anyone gets one, let me know!
There are also other great deals like an Inspiron 15, usually a starting price of $629 marked down to $399.. an instant savings of $230! That is a fantastic price for a full sized laptop.
Check it out! Dell is doing good stuff!