Dell Canada: 42" Philips LCD HDTV $679
This week at Dell Canada, their hot TV deal of the week is the Philips 42" 42PFL3704D LCD HDTV! It is priced at only $679, which is quite a reduction on the regular price of $899.
The 42" TV doesn't seem to be available from many online retailers in Canada, I've only spotted it for $860 at Tigerdirect and $750 at Costco.ca the Dell price really is a good one.
It's a good size of TV, being a 42" widescreen. I have a 42" television myself and it's perfect for my TV watching and PS3 playing needs!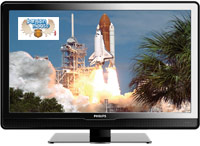 Brief Highlights:
1080p resolution; ATSC / QAM / NTSC
29000:1 dynamic contrast ratio
16:9 widescreen aspect ratio
6.5ms response time
Pixel Plus HD engine