Danby Beverage Centre only $172.99 & Free Shipping @ Costco.ca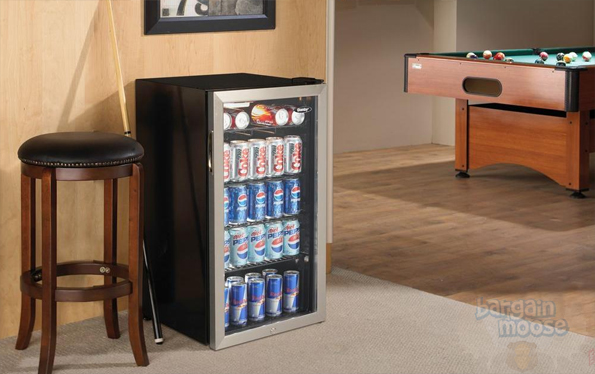 Right now, you can pick up one of the Danby DBC120BLS 3.3 cu. ft. Beverage Centres online @ Costco Canada for a great price – it's down from $207.99 to only $172.99 with free shipping and handling to your home. Here's where to get it:
There are a number of reviews and ratings for this Danby beverage centre on the Costco site. They give it a rating of 4/5 from 26 reviewers, which seem positive. The reviews themselves are pretty much what you'd expect; for example:
This fridge not only looks great but it really performs! It holds all my pop, water, and other beverages, which leaves my main fridge with more shelf space for food.
Sounds about right! I actually have a full-size secondary refrigerator in my utility room, it's mainly for beverages. If you don't have the space for a large device, then this could be ideal.
Obviously this isn't a proper refrigerator; it's just a small Danby beverage centre. But if you've been wanting one of these devices in a den, or perhaps for someone to take to a dorm at college, this could be very useful.
I remember that at university, we had communal kitchens and sometimes foodstuffs would mysteriously disappear from the refrigerators. I would have loved to have one of these little beverage centres in my room; not only to store beverages as the name suggests, but for which to keep safe some of my smaller food items. That would have foiled the Ham Thief of '99!
Actually, I'm even considering the likes of this for my partner at work. He doesn't have anywhere to keep food cool in his office, and ends up purchasing extremely expensive lunches from the eateries roundabout his workplace. With one of these little fridges, he could bring his food and drinks to work… and the initial expenditure would probably pay for itself within a year or so, based upon the monetary value of savings on food expenditure.
Price comparison:
Not many online stores in Canada sell this exact Danby model, but from where I can find it, I can see that the Costco price is the cheapest online by quite a margin. E.g. This fridge is $300 @ Tanguay, $300 @ Amazon, $208 @ Walmart, $299 @ CanadianApplianceSource.
(Expiry: Possibly the 8th June 2014)