Chapters Indigo Canada: 65 - 75% Off Head Phone Hat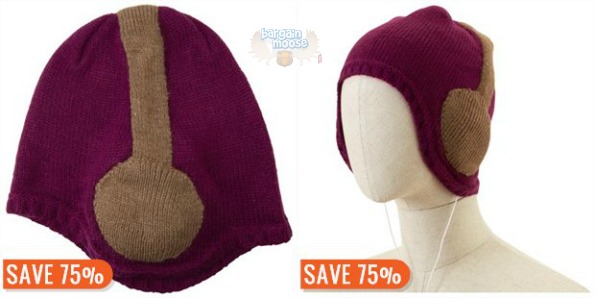 Be quick little Moosers and pick up this fantastic deal on the Head Phone Hat by Echo Design Group. Originally $50, the plum colour is on sale for $12.50 and the black is on sale for $17.50.
The Plum hat is as shown above and the black one, Chapters doesn't have pictures of, but it is a black hat with the head phone outline in white. Unfortunately, the aqua colour is already sold out and I assume these will be soon too.
Oddly enough, the Chapters description says that the hat "comes complete with removable standard headphones." I confirmed this via the manufacturer's website... which makes this an even more wicked deal. I'm not sure they would be that great of quality but any headphones are better than earbuds and you can always give them way to someone in need if you have a better set already.
The hat is made of lightweight knit that is suppose to be extremely comfy. It is a great way to keep your head warm while listening to your favourite music.
Get free shipping on orders of $25 or more.
(Expiry: Unknown: limited quantities)