Brother Portable Label Marker Was $68 Now $30 & Free Shipping @ NCIX Canada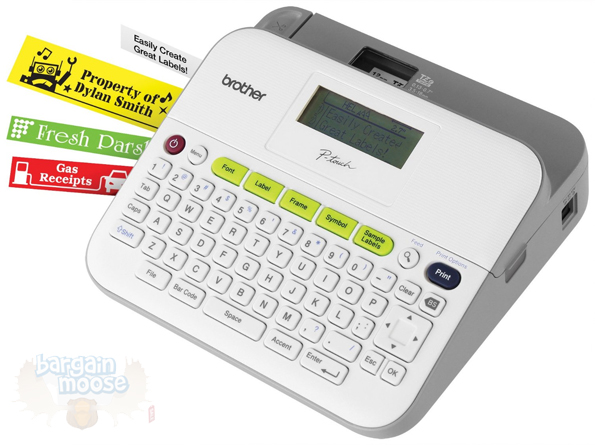 Here's a sweet deal on the Brother PTD400AD Portable Label Marker over at NCIX Canada for today only. It was priced at $67.98, and just now, you can get this label maker for only $29.99.
This particular label maker does not come with free shipping as a matter of course. But what's even sweeter is that you can also use the Bargainmoose exclusive NCIX coupon code MOOSE to score free shipping on any order of $25 or more, which this item qualifies for.
The full item title on the NCIX site is this: Brother PTD400AD 20MM Per Second 0.7IN X 13.1IN Portable Label Marker With AC Adapter. That's a lot of info! There are no reviews or specifications shown on NCIX site, so I will have to go elsewhere to find out more about this particular item.
According to the page here on Brother.ca, this label maker has a handy graphical display which shows you the text and layout before you print. From looking at the image above, you can print out some cute labels with this tool. The machine comes with an 18mm "TZe" starter tape which you can use to start labelling all the bits and pieces in your house.
It seems that this labeller has quite a power consumption – it takes 6 AA batteries which do not come with the device. Consider adding a few sets to your order at NCIX, such as this 20 pack of Fujis (if you don't already have rechargeables).
As for prices elsewhere in Canada, it says on the DirectCanada site that this item is $23.90… but you cannot actually buy it. :) On Amazon.ca, the same label maker is $38+ including shipping. It's $69 here on DirectDial and not for sale at many other stores at all. Great price from NCIX, IMO!
I'd love a labeller! However, I'd probably spend the first few days labelling everything in sight then forget I owned it at all. I do think it would be useful now, with the girls growing older and going to school. They need all of their stuff labelled… and this could be a good option instead of buying sets of labels every year from the likes of Mabel's Labels and Emily Press.
(Expires: 18th April 2015)