Black Palmdale Power Recliner Was $800 | Now $300 @ BestBuy.ca *BUMP!*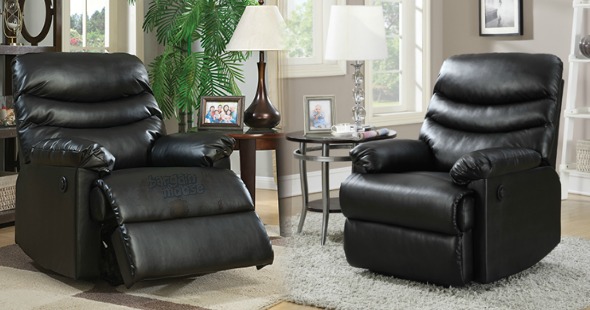 ***This chair is now $50 less than last we wrote about it! Get it now for just $299.99!***
Kick back and relax is a phrase people often say. The problem is, you need a recliner to do that. Right now Best Buy Canada has the Palmdale Power Recliner in Black on sale for just $299.99 including shipping. That is a total savings of $500. When we previously blogged this deal, shipping was included. Now you will see a "promotional savings" of $49.99 at the check out process but delivery will cost you $49.99, so essentially you are paying $299.99 plus tax for this chair.
If you have kids or pets, you probably have the same fear as I do: damaging your leather furniture. I spent a pretty penny on my furniture and my heart races a little every time the cat or dog jumps onto it. Leather can be expensive, but luckily enough polyurethane fabric furniture looks just like leather and only has a fraction of the cost. Take this Palmdale Power Recliner as an example. Leather recliners like this could cost you upwards of $1000. This recliner would normally cost you $800, but is on sale for just $299.99. The polyurethane material makes it easy to clean, and a little more durable than leather. This chair is even discounted by a further $49.99 when you add it to your shopping cart, but that is what shipping will cost you. So you can say that the chair will cost you a total of $299.99 plus taxes.
Did I mention that the Palmdale Power Recliner has a two-way power motor? Switch your chairs position right at your fingertips. There are literally two buttons right on the chair, in an easy spot. One button reclines the chair and the other button will put it back to the normal position. There are an infinite number of reclining positions with just a click of a button. My grandmother, due to her old age, has a hard time putting the foot rest back down on her manual recliner. She would really benefit from something like this. I think she would enjoy the comfortable triple-pillow back design too. Just be careful no odd crumbs or toys end up in there if you have young children. My toddler loves to stuff toys in between the couch cushions in my living room. It makes for an interesting cleaning day at least. This recliner only comes in black, but at least black seems to match everything (as you can see in the image above). It surely won't clash with your current decor.
Unfortunately this item is too big to reserve at your local store. You can only opt for the home delivery option since the item will be shipped directly from the warehouse. The delivery can be scheduled for your convenience. I had Best Buy deliver a stove to me recently, and unfortunately they scratched it trying to get it into my house. They offered me a new one or a discount. and I took the discount. Just pay close attention that they don't ding your new recliner on any of your door frames.
(Expiry: 11th June 2015)