Best Buy Canada: Samsonite Tectonic Laptop Backpack Only $29.99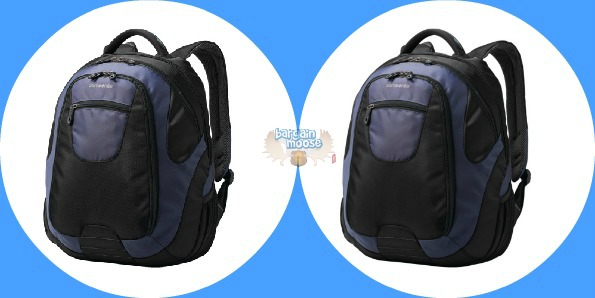 The Samsonite Tectonic laptop backpack is on sale right now for only $29.99 at Best Buy Canada, regularly $69.99, so you save $40. I didn't see this for less than that price anywhere else online.
If you travel a lot, or take your laptop out of your home, you'll need some kind of bag to carry it in. Laptop bags are cumbersome and not practical. Enter the backpack, a much more ergonomic and fashionable way to carry your laptop and everything that goes with it. My husband bought a laptop backpack years ago to travel back and forth from customer sites and says it is one of the best purchases he's ever made. He doesn't need his hands to carry it, so they are free to hold his coffee, paperwork or if on a business trip, to push his luggage. This is also a great student laptop backpack, because it is stylish and again, practical.
This laptop backpack from Samsonite is durable and has padded handles, with shoulder straps for extra comfort. It also has a durable fabric, keeping your laptop safe. It has many pockets for your pens, paperwork and anything else you need to carry to your meetings. The size of laptop it fits is 15.6 inches.
The reviews for this item are great. People say it has lasted a long time, fits everything they need and is very durable.
Get free shipping on this bag (on orders over $20).
(Expiry: Limited quantities available and sale ends 3rd March 2013.)