Best Buy Canada: Bar Stool Sale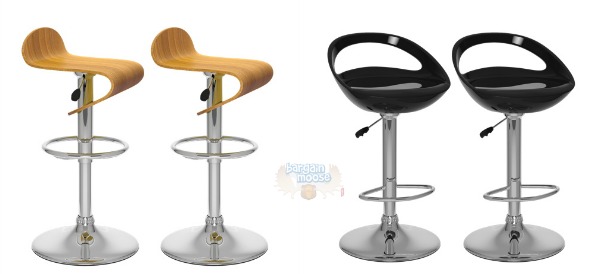 I cannot believe I am writing about a bar stool sale at Best Buy Canada - but I am! Right now, they have a ridiculously good bar stool sale on pairs of bar stool chairs for your bar.
So, say you are on a really tight budget, but you really need some bar stools? Well, we can certainly help you out with that. Check out these deals:
Those bar stools are available in a variety of colours, too.
If you can spend a bit more, maybe check out these CorLiving Curved Form Fitting Adjustable Bar Stools - 2 Pack - Black for $126.69 (save $54) or these CorLiving Curved Bentwood Adjustable Bar Stools - 2 Pack - Light Brown for $140.69 (save $60).
Whether you buy two or four, you are still getting some good looking seats at a great price.
Enjoy free shipping on all orders of $20 or more. That is pretty big for this deal because these must cost a fortune to ship, as they are fairly big and can be rather heavy.
(Expiry: 22nd August 2013)